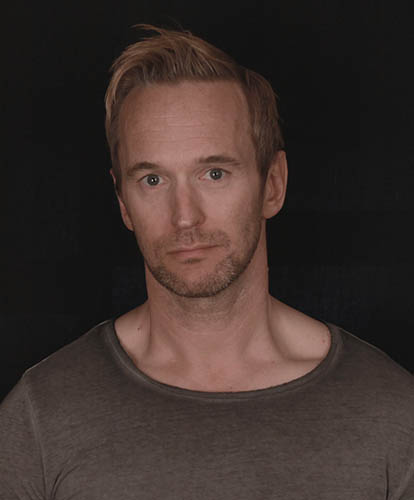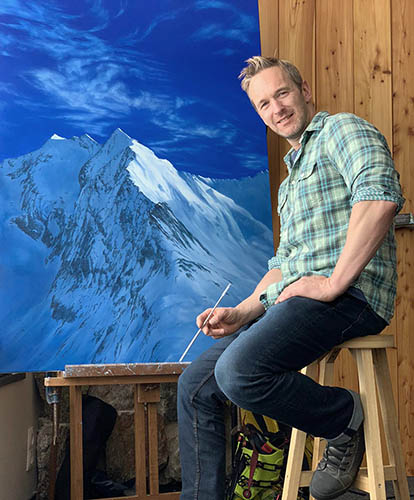 The rare beauty of the mountains, forests, valleys, waterfalls and cabins of Alpine and Arctic environments have always inspired Adam to paint. The constant evolution of colour, light and mood of the mountains and snowy environments are possibly some of the most extreme and inspirational muses for Adam.
Throughout his childhood Adam visited the Alps with his family every Summer and Winter, so his love for the mountains grew from a very young age. Over the years the mountains and unbridled majesty of nature has become a passion for Adam, which has fuelled his exploration in capturing these experiences on canvas.
Adam now visits the mountains with skis in the Winter and hiking boots in the Summer, but always armed with a sketchbook and camera. Adam has taken to ski touring, helicopter and even sleeping in snow holes and cabins to access more and more remote varied scenery and landscapes in the quest to capture the wild beauty of the topography of the mountains.
Adam gained BASI instructor qualifications in Alpine Skiing and Telemark and has trained with various mountain guides and even Ray Mears to increase his skills and knowledge on the mountain and in the snow, and is a member of the prestigious Kandahar Ski Club. When not travelling, Adam is to be found in his art studio in the Surrey Hills of England. Adam is also the Winter Editor & Lifestyle Editor for The Bespoke Black Book. On this site you will find my exploration of the mountains through my art, my reviews of place I have visited; from Ski resorts and accommodation to equipment and experiences.
Exhibitions to date:
2017 Part of a Art Collective Show in Mayfair, London
2018/2019 Arlberg Hospiz in St. Christoph, Austria
2019/2020  Gurgl Carat in Obergurgl, Austria