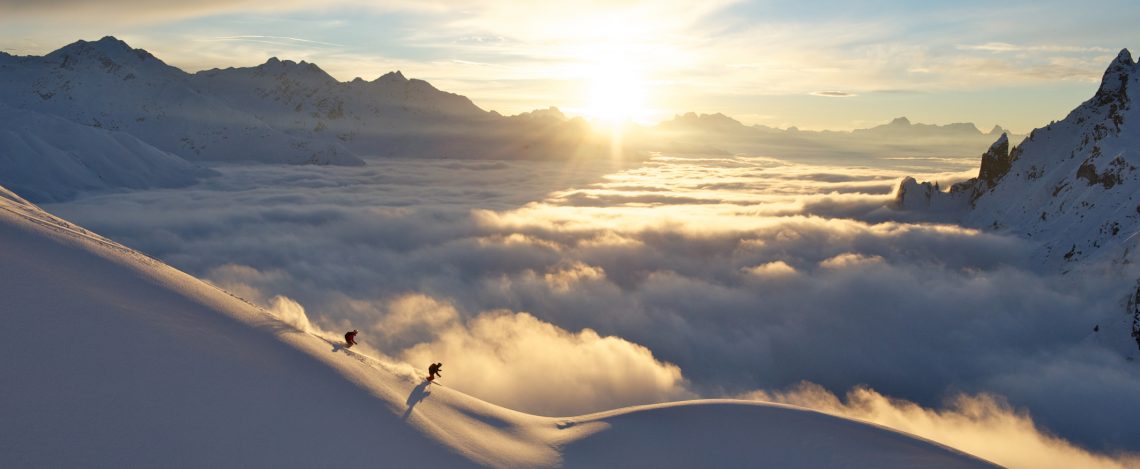 THE FACTS
SEASON START & END: Open beginning of December to late April
SKI ALTITUDE: 1450m-2450m / Vertical Drop- 1000m
PISTES: 40% Beginner / 45% Intermediate / 15% Expert
LIFTS: 88 (Gondola-14 / Chair lift-46 / Drag lifts-28)
SLOPES: 117 Pistes for a total of 180km (including Warth-Schröcken) New connection with St. Anton increases the total to 188 pistes / 305km
SNOW: Average of 7.6 metres fresh snow  in Lech and 10.8 metres of snow in Zürs per season. About 70% pistes covered with 915 snow canons (136km)
LIFT TICKET 2020/21 Ski Pass: Adult: 59 Euros – 1 day / 313 Euros – 6 days
LANGUAGE: German
AIRPORT: Nearest airports are Altenrhein 100km (1:15 hours) / Innsbruck 120km (1:30 hours) / Zurich 194km (2:10 hours)
TRAIN: Nearest station is Langen station (15km to Lech) or St. Anton station (20km to Lech)
SKI FACTS: Backcountry terrain 200km. Seven Ski schools with 800 professional instructors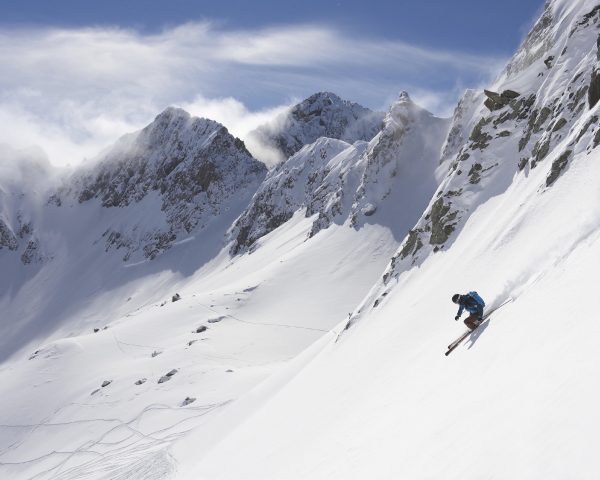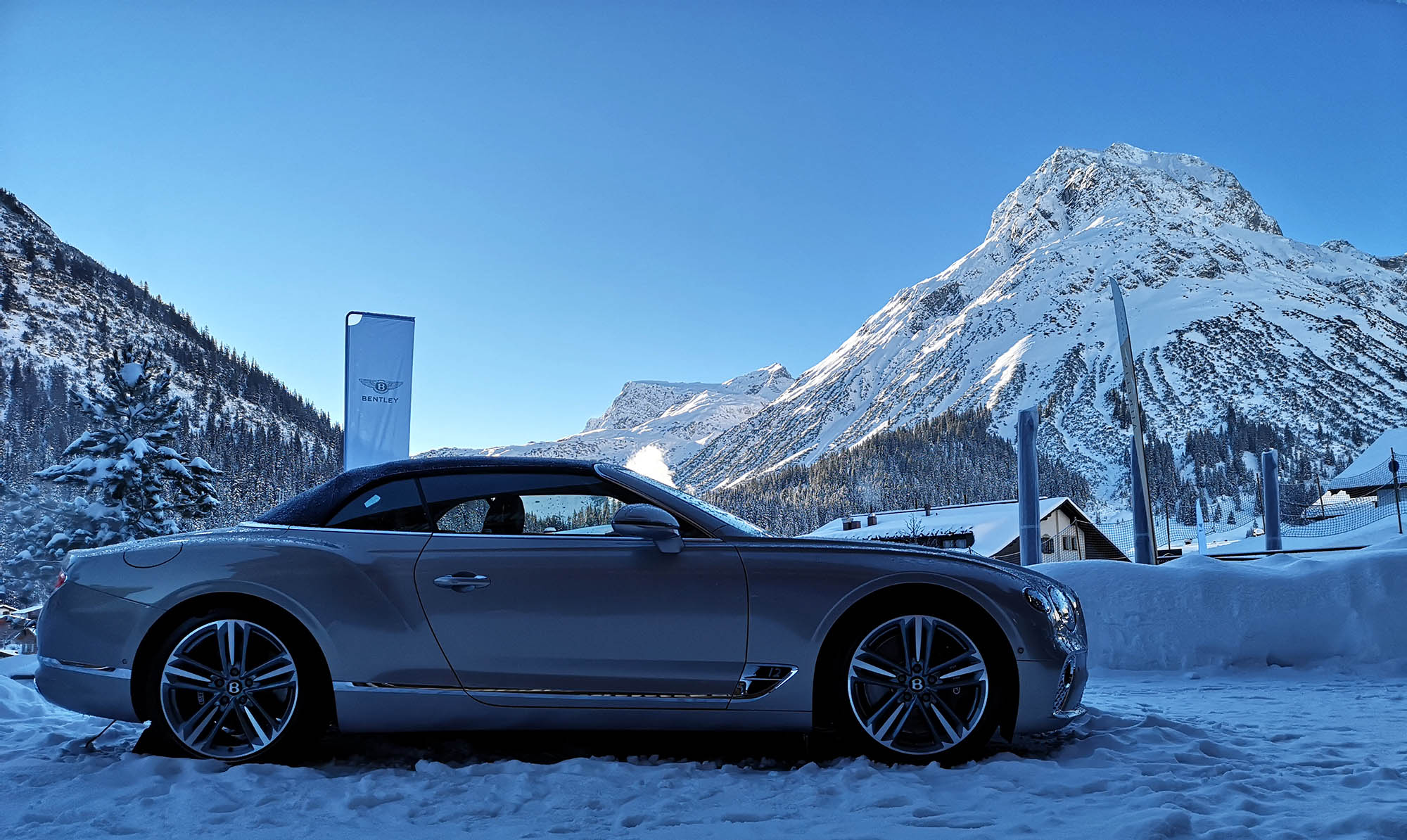 TOWN
Lech was originally founded in the 14th century by Walsers migrating from Switzerland. It has a rich history of farming which it still has to this day. Lech sits in the Voralrberg region right next to the Tirol region, with the Arlberg mountain range sitting between them. There are actually several villages in the area connected by roads and by the skiing. Oberlech is the closest and sits just above Lech as a beautiful collection of hotels and homes. Zug is further west and the mountains in this direction are known as little Canada. Further north is Warth, a little town where in 1894 father Johann Müller read about how Scandinavians were travelling around on skis. He ordered a pair of these skis from Scandinavia and proceeded to practice in secret, so that he could eventually visit all of his parishioners and fellow priests over the mountains. When he was discovered, half the locals allegedly thought he was in cahoots with the devil, the other half went home and made their own skis, and the rest is as they say history and Johann Müller is famed for bringing skiing to the Alps.
Further South is Zürs, a small village of mostly hotels, and then Stuben where the famous Hannes Schneider was born who developed the Arlberg technique with the Stem Christie turn, the predecessor to the modern day Parallel turn, which spread throughout the Skiing world back in the early 20th Century. Further South is the small village St. Christoph up high at 1800m and then St. Anton.
Lech is a beautiful village with stunning architecture and in my eyes the perfect size for a mountain village. There are a few shops but not too many with Strolz in the centre playing the part of the local Harvey Nichols. With many hotels and a total of 87 restaurants in the area, one is never stuck for choice of food. My favourite experience is to ski back down to Lech at the end of the day when everyone else is already back home, such a peaceful view.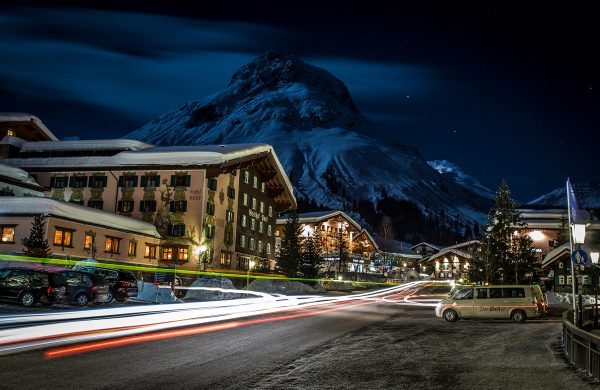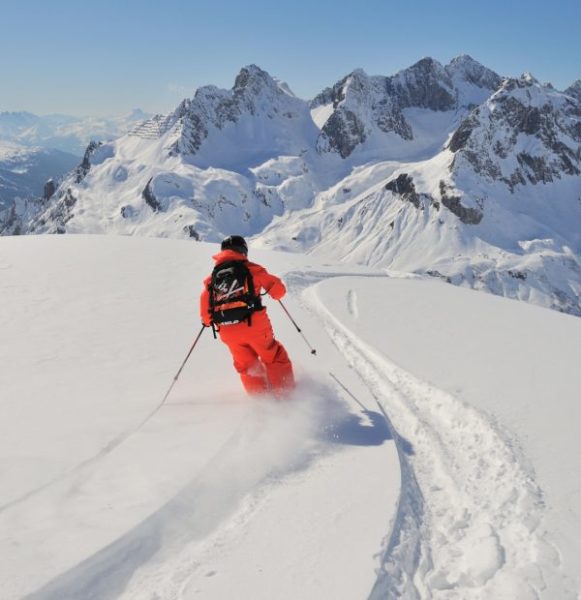 SKIING
With a total of 180km pistes there is something for everyone. The lift system is modern with many new lifts having been installed over the last few years. For instance the Flexenbahn cable car opened in 2016 which now links the areas of Lech and Zürs with St. Christoph and St. Anton making it the largest ski area in Austria on a par with some of the giant French ski areas. It has also reduced the buses between the two regions by 120 buses a day which can only be a good thing for the environment. The region tends to get a generous snowfall each year, however 66% of pistes are backed up by snowmachines. The White Ring Circuit is not to be missed, linking Lech with Zürs, Zug and Oberlech.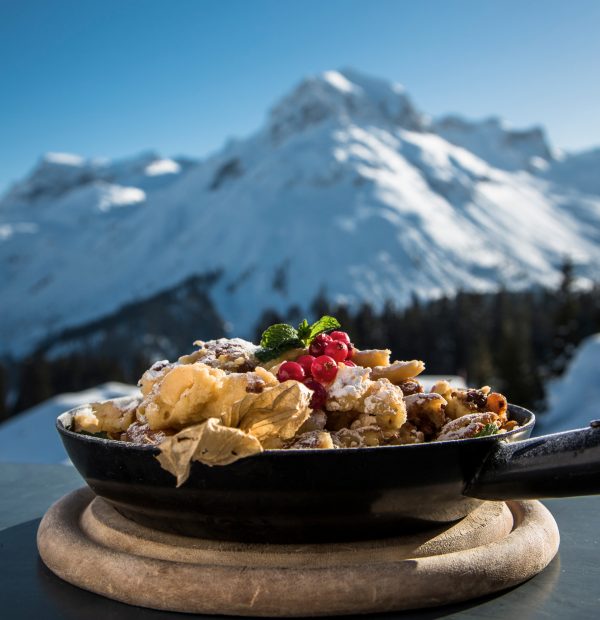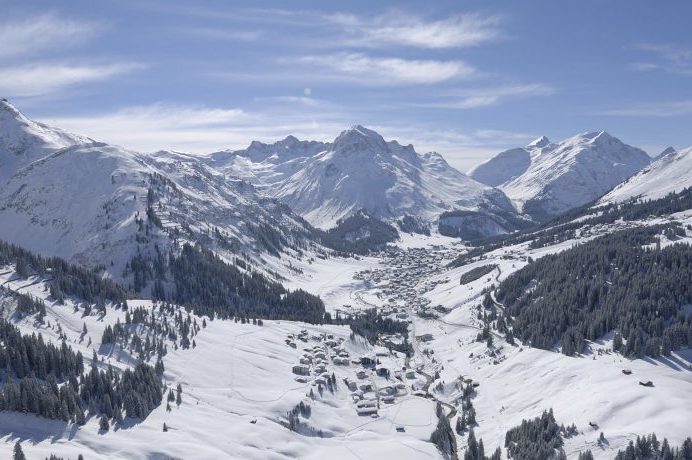 BEGINNERS –
Beginners can head round the back of the church to a handful of gentle blue pistes far from the maddening alpine crowds. Eventually, beginners can head to the lower slopes of Lech where there are a good collection of blue pistes.
INTERMEDIATE –
Intermediates can pretty much enjoy most of the mountain area, heading up to the peaks to enjoy the views and the large selection of well groomed reds.
ADVANCED –
Whilst Lech and Zürs may only have one black piste, the area does have a total of 36 ski routes which are unprepared, alternatively one can head over to Warth where there are a collection of 11 fabulous black pistes.
– OFF PISTE –
There are about 200km of recognised backcountry routes of which the 'Madloch route' is the longest at 5.5km. It is the only region in Austria to offer heli skiing packages for four skiers and a guide. There are two peaks to heliski from, the 'Mehksack peak' for experienced skiers, whilst 'Schneetali-Orgelscharte' is good for medium skiers.
Lech – Oberlech – Zürs

Total 117km of piste – 22 Blue /  52 Red / 1 Black

There are many flattering blue pistes lower down the mountain from Oberlech heading down to Lech. The Red pistes coming down from the Zuger Hoclicht peak are a lot of fun for carving on, and it is definitely worth checking out some of the quieter red pistes on the Trittkopf side of Zürs where you can really step on the gas. It is worth trying your hand at the 'White Ring', a 22km circular route that will have you ski a combined vertical descent of 5,500 metres. It has a cult status as a race and will have your legs burning by the end. The record is currently held by Patrick Ortlieb at 44:35:07. For some very tasty Austrian food head over to Der Wolf which is accessible from the top of the Petersbodenbahn and Weibermahdbahn chair lifts and pistes 200 Kriegeralpe and 210 Grubenalpe; the setting is stunning and the food absolutely divine.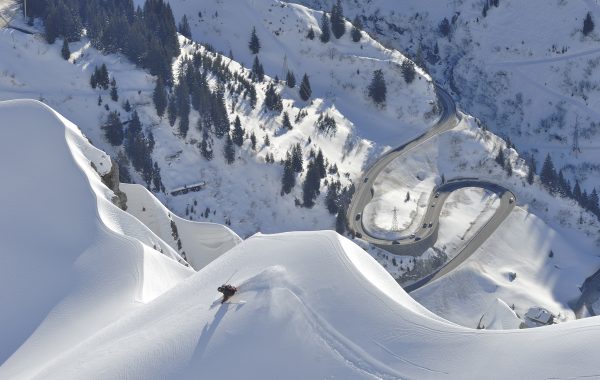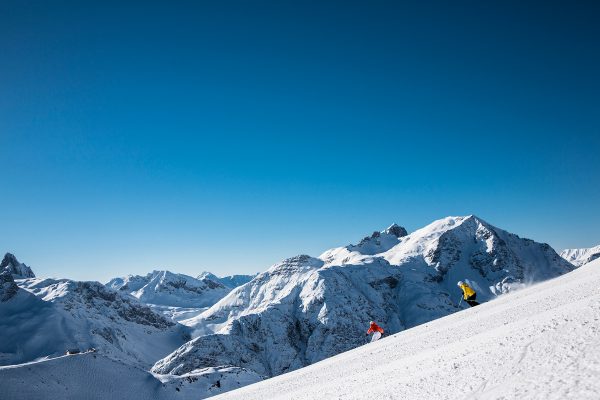 Warth – Schrocken
Total 63km of piste – 15 Blue /  16 Red / 11 Black
Warth has a fabulous mix of pistes and to be honest I had overlooked this area on previous trips sadly. With the new lift connection it is easy to get to from Lech. When I visited it was very quite and reminded me of skiing back in the 80s when there were less skiers altogether on the mountain. Lots of longs pistes, lots of rollers and lots of fun to be had. Go ski in the tracks of Father Johann Müller and say a little thank you for his wayward antics.
We can highly recommend staying at Hotel Aurelio who provide Ski in/Ski out 5 star superior luxury with a great spa and innovative cuisine. We also recommend the Hotel Gottard which can be booked through Crystal Ski Holidays.