Atomic Skis Redster Q7 Revoshock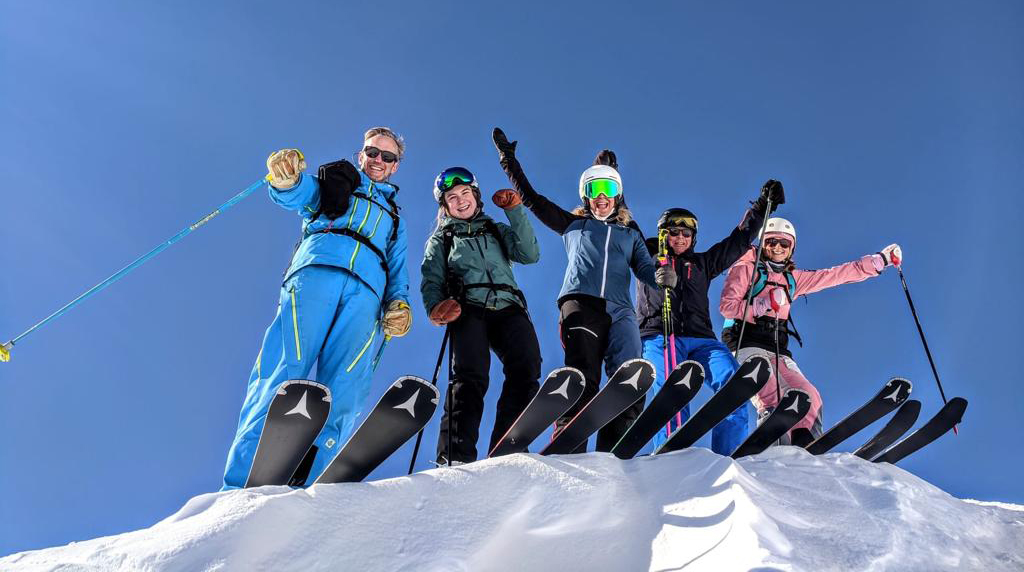 Atomic was founded in 1955 by Alois Rohrmoser of Altenmarkt in Austria where he created 40 pairs of skis a year; to this day it still has its main headquarters in Altenmarkt and the majority of its production still takes place there as well as some production in Bulgaria. In 1968 Olga Pall won gold on Atomic skis winning the women's downhill at the Olympics and in 1971 Annemarie Moser-Pröll won her first of six Overall World Cups on Atomic skis making her the first Overall World Cup champions; so it seems that Atomic started to make ripples in the world of racing. Over the coming decades Atomic skis started to propel athletes into first place across the various disciplines. In 1988 Rupert Huber of Atomic created the world's first fat powder specific ski, the 'Magic Powder' inspired by the growing trend of snowboarding. In 1989 Atomic became the first one-stop supplier ski brand by manufacturing skis, bindings, boots and poles that all work together in harmony.

I have always loved the Atomic Redsters G & S series of skis. Perfect for carving on piste and getting what seems to be physically impossible edge angles, there is a reason that the likes of  Marcel Hirscher, Mikaela Shiffrin, Marco Schwarz and Sofia Goggia win time and time again on these Redsters. As Darwinism's theory of evolution explains…all species of organisms arise and develop through the natural selection of small, inherited variations that increase the individual's ability to compete, survive, and reproduce; well it seems that Atomic Redsters have been getting jiggy with it and have given birth to an entirely new breed of skis… The Redster Q7.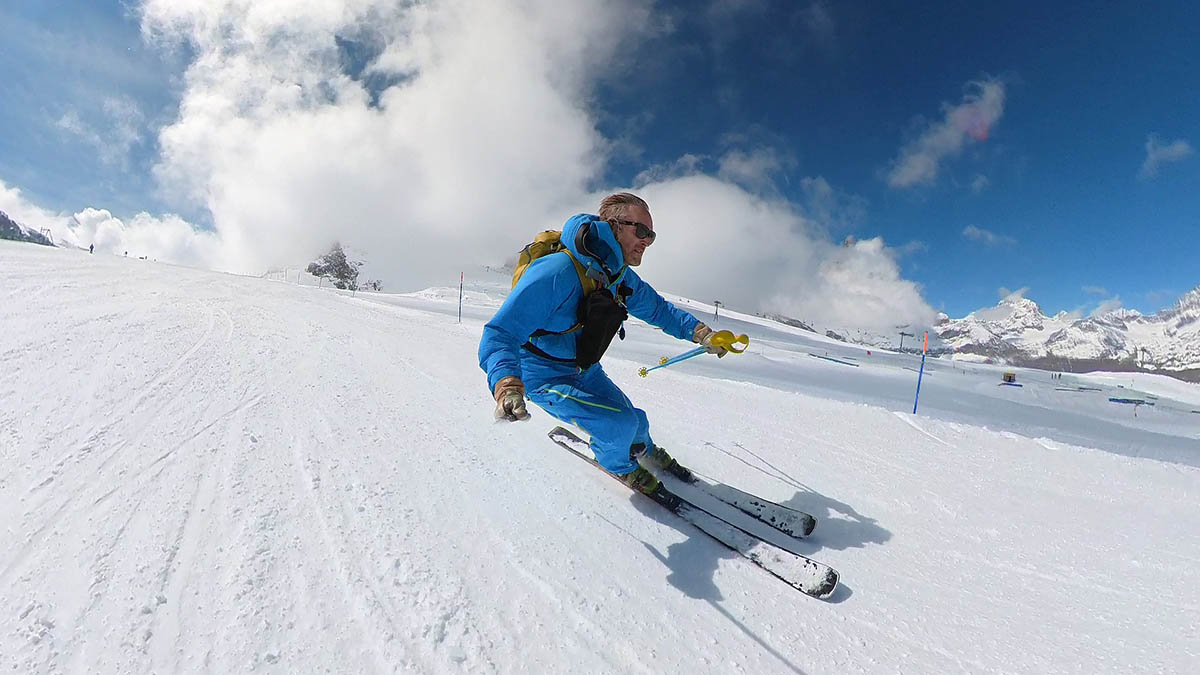 The Redster Q7 has been designed to ski in all conditions that can be found on piste, from the beginning of the season all the way through to the very end of the season, from the very start of the day to the very end of the day. The Redster Q7 can deal with early morning hard packed bulletproof pistes, gripping like a race ski and with 85mm under foot and 136mm up front the Redster Q7 can bash through the heavy thick slush of Spring. But when the conditions deliver ideal morning corduroy the world cup technology provide ultimate carve potential. As a member of the Redster family the Q7s have the explosive power of Revoshock technology, which consists of 5 spring steel or carbon modules encased in an impact absorbing elastomer- elastic, rubbery material for want of a less technical term. These 5 modules absorb bumps and shocks preventing them from reaching your feet, creating a smooth ride and redirecting this energy which has to go somewhere to the edges, thus powering you out of the turn. It seems that this upgrade or evolution of the ski has certainly created a smooth yet energetic ski, the ski feels relaxed and easy to manoeuvre at slower speeds, but when you dial up the speed and aggression the ski responds with more energy and dynamic performance. I found that skiing heavy slush, or choppy off piste was a breeze; I would pick up the pace, push through the heavy snow and the skis would just plough through it all with rigid determination supporting me on their 85mm platform under foot, ultimately giving me confidence that my skis would not fail me. The skis were rigid enough to hold on the steep, icey pistes too.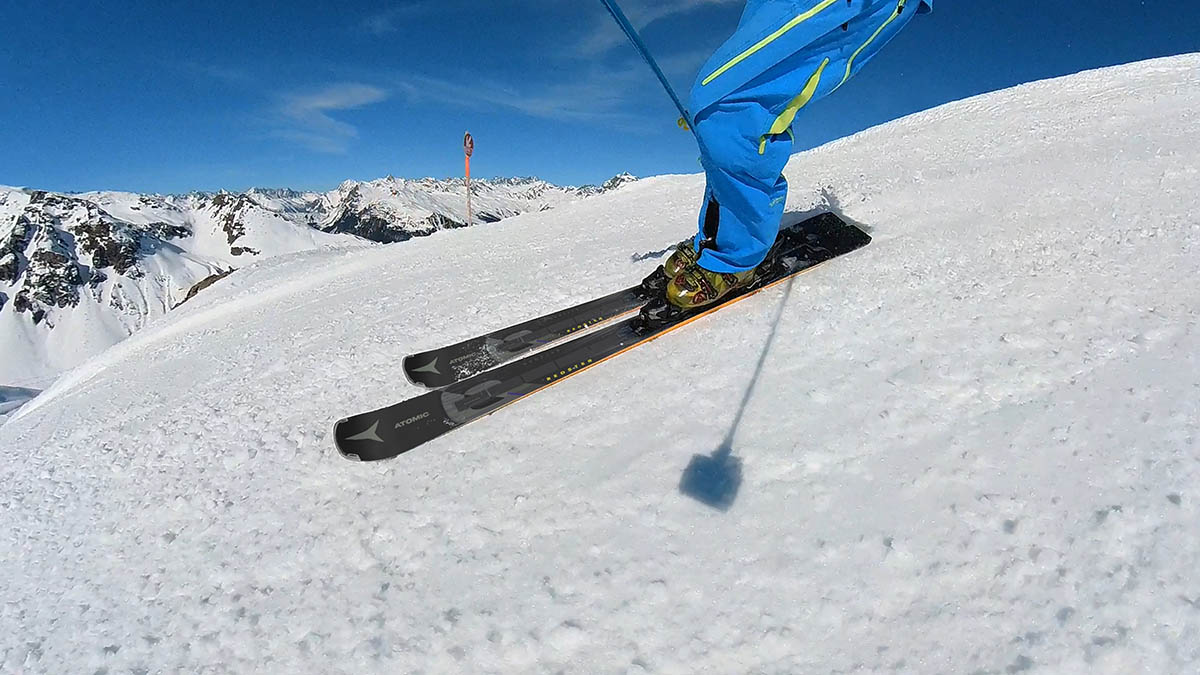 Normally I am always aware on hardpack that the skis might slide out from underneath me, but the Q7s seems to grip and hold on, meaning that I could still carve on hard packed snow. Obviously my favourite and the favoured conditions of most skiers- the freshly groomed corduroy or chalky, grippy pistes – were a dream with these skis, despite the 85mm under foot compared to the traditional 68mm of the race Redsters, one can still get the Q7s onto edge with ease and carve them through short slalom turns, GS turns or long down hill turns. With some technical knowhow we measured my edge maximum at an angle of 83°, averaging at around 60-70°; along with a radius of 15.2 metres for my 181cm Q7s, although the skis have a multi radius sidecut which I presume depends on what pressure and angle you put the ski through, I could make these skis perform tight and snappy short turns to long and solid radii without too much trouble. The season of 2021/22 I really got to grips (excuse the pun) with carving on icy hardpack and the Q7s had something to do with this!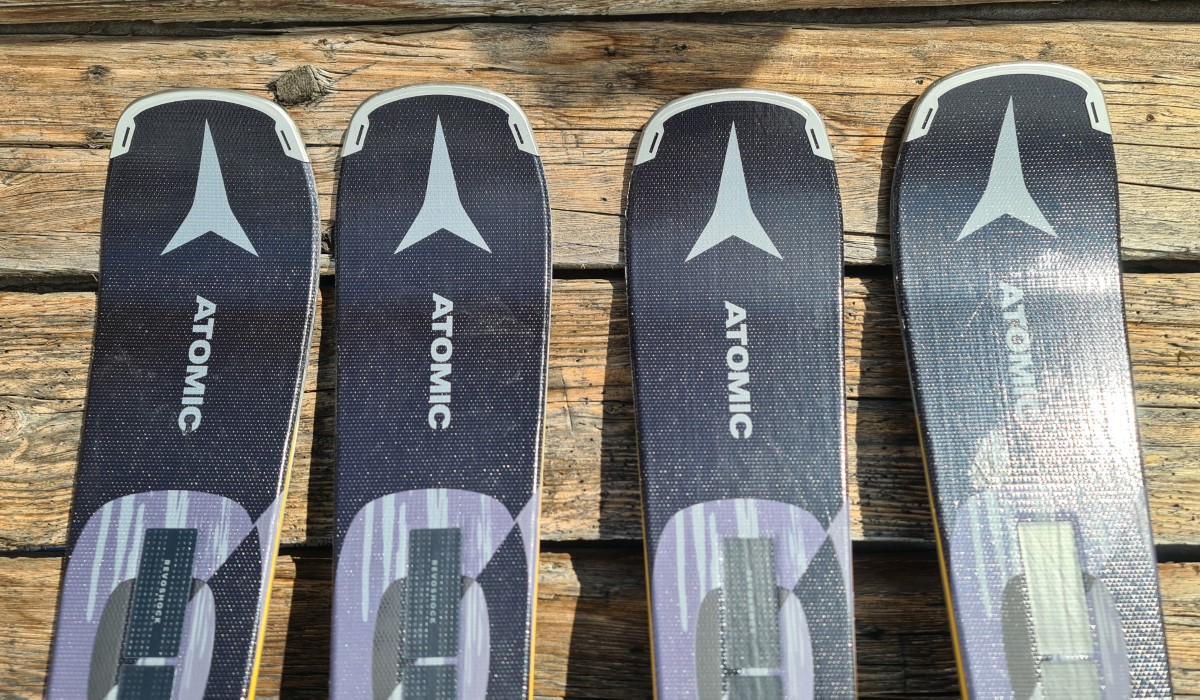 Along with the Revoshock, the Q7s have some other characteristics such as a Power Woodcore, which consists of a dynamic ash and polar laminated core to create strong stability and dampen vibrations at speed. The Q7s also have a Titanal Powered laminate above and below the woodcore to help with further shock absorption, good stability and great torsional flexibility so the ski does not flip around like a wet fish when the going gets tough. The Q7s also feature Dura Cap Sidewalls, their rounded profile means more durability with less dents and dings.
Adam skied on Atomic Redster Q7 Revoshock C (Carbon) + M12GW
Length: 181cm / Tip width: 136mm / Waist width: 85mm / Tail width: 120.5 / Radius: 15.2 metres / Active Camber 0/100/0
For more information visit Atomic online.